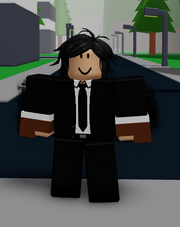 You can get businessman (oni) from arrow
Passives:
(Passive A) Firepower : Every attack leaves red fire on the opponent
moveset :
E - leg breaker : oni does deal 50 damage
R - uppercut combo : Oni does two uppercuts dealing 30 damage each. If both uppercuts hit, oni will teleport above them and do a strong kick, stunning them. The kick deals 70 damage.
T - Demon step : Oni slides on the ground (Broken) deals 30 damage.
Y - Demon smash : Oni kicks the ground, creating a shockwave. Deals 60 damage.
H - road to be banned : Currently Broken. Used to ban you from the game.
Combos:
E+T+R+Y+T+E
R+T
Y+T+E
R+E+T
Y+T+Y+R
Edit: This might be The Thin man.