The Clown Spec is a spec that doesn't have a physical form, it appears as rainbow clown hair on your avatar.
How To Obtain
Clown Hair + Weird Hat Man = Clown Spec
Unobtainable (Not obtainable anymore)
Video of person making clown spec - https://www.youtube.com/watch?v=LF-LyDmp1Is
Moveset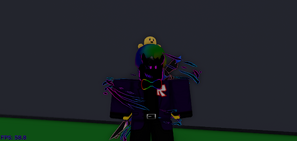 Keybind
Move
Description
Damage
Gif
LMB (Left Mouse Button)
TBA
clown spec throws a little ball which deals high damage
211.1
E
Barrage
122-144 per hit
R
Heavy Punch
405.8 (202.9 per hit)
V
Teleport
The user and Clown Spec teleports a short distance
G
Pose
The user poses and plays the circus theme
Z
TBA
The user flys around dealing 5 damage to anyone the user collides with
5 per collision
Combos
List Of Combos

| Combo | Difficulty | Gif | Note |
| --- | --- | --- | --- |
| | | | |
| | | | |
| | | | |
Pros
High damage output
Teleport has low range meaning you escape easily from players in PvP
Cons
Unobtainable meaning if you wanted this stand and didnt want to trade for it your done for.
Trivia
This spec doesn't have a physical form and appears as rainbow clown hair on your avatar
Community content is available under
CC-BY-SA
unless otherwise noted.