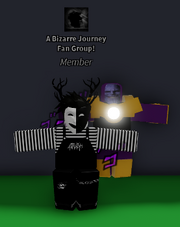 Mighty Admin Thanos is an B+ tier stand. it is currently obtainable.
How To Obtain
Using a Infinity Stone on The World.
The tier for this is a B+
Moveset
Keybind
Move
Description
Damage
Gif
E
Barrage
298 per punch

389.9 per kick

(Has a random chance to do 859.9)

R
Heavy Punch
Mighty Admin Thanos extends forwards and sends a high damage punch forward
300.9
Y
TBA
Mighty Admin Thanos throws a punch that heals other players
around 264 HP
U + Y
TBA
Mighty Admin Thanos throws a punch towards the user healing them
around 264 HP
C
Teleport Roll
The user and Mighty Admin Thanos rolls a short distance forwards
X
Block
The user puts their arm in an X shape and reduces the amount of damage that is taken
G
Pose
The player poses and plays the Thanos Beatbox track
N
Quotes
Pros
A good stand for trolling.
A good stand to spam heal.
Cons
Normal stand jump with cooldown.
Trivia
This is a stand thats people try to convince them at it is the "ADMIN" thanos
Community content is available under
CC-BY-SA
unless otherwise noted.