Line 13:
Line 13:
 

R Button: Mega fling punch. (Spammable, and does about 40 damage and is very annoying)

 

R Button: Mega fling punch. (Spammable, and does about 40 damage and is very annoying)

 
 
−

Y Button: Healing you with by 39 health per hit. (spammable,inf time)

+

Y Button: Healing you with by 39 health per hit. (spammable,inf time)

 
 
 

C Button: roll (spammable)

 

C Button: roll (spammable)

Line 21:
Line 21:
 

Q Button: Appear ur stando.

 

Q Button: Appear ur stando.

 
 
−

X Button: Blocks all attacks except [[jevil]]'s scythe attack and [[Megumin]]'s expolision attack.

+

X Button: Blocks all attacks except [[]]'s scythe attack and [[Megumin]]'s attack.

 
 
 

== Help: ==

 

== Help: ==
---
Revision as of 12:02, 13 June 2021
Status: Unobtainable!
Information:
=== You cannot get this stand anymore.
you made it by using Coffin Diary + Star Platinum (Evolved)  ===

R Button: Mega fling punch. (Spammable, and does about 40 damage and is very annoying)
Y Button: Healing you with by 39 health per hit. (spammable, inf time)
C Button: roll (spammable)
Z Button: weak stand jump (spammable)
Q Button: Appear ur stando.
X Button: Blocks all attacks except Jevil's scythe attack and Megumin's explosion attack.
Help: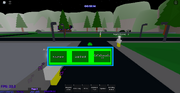 Stand Storage, it will say Coffin Dancer Stand.