Unobtainable B+ tier (It's not an S tier. It is confirmed as a B+ on the official trading discord.)
Passives:
Bypasses time stop
Tiny increased speed
3. When stand is not equipped your body will glow and when you summon the stand, the glow will go to the stand.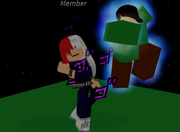 Moves: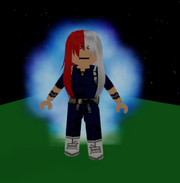 Click - 30 damage.
E - Barrage - 257.9 - 287.9 per hit
R - Strong Punch - 356.7 damage
Y - Self-Heal - 16 per hit.
G - Pose (plays https://www.youtube.com/watch?v=34Ig3X59_qA(you must listen to this)) it rickroll
C - Roll (No Cooldown)
Z - Stand Jump (No Cooldown, Small Distance, allows you to fly like Star Platinum Requiem)
X - A block that negates all damage. (except true damage)
N - No quotes.
Q - Stand Summon
How to get:
Use arrow until you get Star Platinum Stone Ocean (Or use a unbelievable to spike up your chances)
Use Jotaro hat on Star Platinum Stone Ocean
Star Platinum + Shaggy Item = Shaggy Stand
(UNOBTAINABLE NOW)

Community content is available under
CC-BY-SA
unless otherwise noted.