Unobtainable C tier
Passives:
Bypasses time stop
Tiny increased speed
3. When stand is not equipped your body will glow and when you summon the stand, the glow will go to the stand.
There are rumors about ths stand being reworked so value went up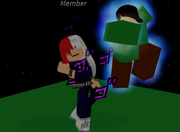 Moves: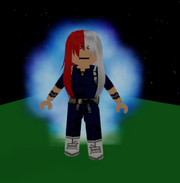 Click - 30 damage.
E - Barrage - 257.9 - 287.9 per hit
R - Strong Punch - 356.7 damage
Y - Self-Heal - 16 per hit.
G - Pose (playshttps://www.youtube.com/watch?v=pzrYJ3H4Dic&ab_channel=ErmsMusic
)
C - Roll (No Cooldown)
Z - Stand Jump (No Cooldown, Small Distance, allows you to fly like Star Platinum Requiem)
X - A block that negates all damage. (except true damage)
N - No quotes.
Q - Stand Summon
How to get:
Use arrow until you get Star Platinum Stone Ocean (Or use a unbelievable to spike up your chances)
Use Jotaro hat on Star Platinum Stone Ocean
Star Platinum + Shaggy Item = Shaggy Stand
(UNOBTAINABLE NOW)