Note: The sun goddess boss does not exist anymore.
Appearance
It is a yellow boss with a normal type of yellow color. It has no accessories besides her stand's unique head.
Click on Odd_Developer NPC to get to the boss.

Best stands to kill this boss:
Glitch: spam barrage and heal, it will take a way longer time to kill the boss than SP:OH.
Star Platinum Over Heaven: (press V, reset and repeat until u get drop) Recommended.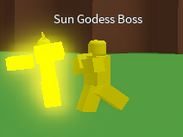 Drops are as follows:
Infinity Stone (45% chance).
Computer Error (65% chance).
Galaxy Camera (35% chance).
Galaxy Orb (5% chance).
Community content is available under
CC-BY-SA
unless otherwise noted.