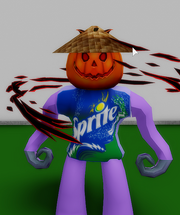 Straw Hat Spec
Description
A Straw Hat On Your Avatar
How To Obtain
It can be obtained by using arrow, it is a spec that has a straw hat (pic of spec at the side)
ATTACKS
E - Weird Barrage
You start to barrage the opponent, dealing 5 damage each hit.
R - Weird Strong Punch
You throw a strong punch dealing 30 damage.
T - Weird Scream
You scream, hitting people around you for 25 damage.
Z - Air Attack
You start flying while hitting any opponents in your way for 5 damage.
(I took this from trello)
PROS/CONS
Pros
Fast in flight
Makes a lot of specs
Cons
Low dmg output
Not worth really ANYTHING
Low health
No block
High cooldowns